Monday, August 29th, 2005
---
8:00 pm
- safequeen
Saturday, August 27th, 2005
---
11:10 am
- THICK WAIST CHUBBY LEGS MAKE YOU DO A DOUBLE TAKE YUH YUH
(

Read more...Collapse

)



Wow that was weirdz. I woke up in a really good mood.

Last night I went to Chili's and I saw this girl in my french class. And WE BOTH HAD THE SAME WAITER AND WOW. He is beyond gorgeous. He looks like Matt from Relient K, I swear. Kind of. But wow.

After that I went to Fusion and I was rather late but it was still really awesome to go back there. I had a great time worshipping God and hearing the message. I'm going to try and be a better friend to everyone I know. Hold me to that, okay?

I talked with a bunch of people, kind of. And I also saw Taylor from my french class. He gave me a fusion pen. It's pretty sweet.

Then I went to Blockbuster. My sister rented the harry potter POA ps2 game, and I rented 'Super Size Me' because it looks interesting.

This next week I'm volunteering at this art show for school do get some community hours done. I also want to do it because I need to get involved with more things so yay. And we also get t-shirts. Muahah.

Well, I hope everyone has a good week and I love you all. TTFN LOL.
Monday, August 22nd, 2005
---
4:40 pm
- fists pounding on a vending machine
This past weekend, I went to Miami. I took

(

pix.Collapse

)



current mood:

satisfied
Thursday, August 18th, 2005
---
8:00 pm
- Doll Maker Meme
Go to eLouai's Doll Maker.

Make a doll of yourself, trying to stay as close to what you really look like.

Then, make another. MarySue!You. Extra points for wings.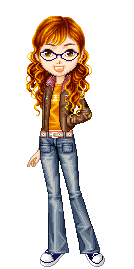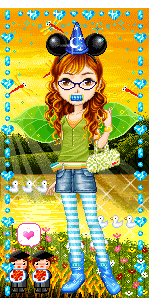 Lololol. The actual me one is not EXACT, my hair isn't that reddish but you get the idea.

And I have that same jacket except it's not in pixelz.

Comment and show me yours ;D.

current mood:

IHATEYOUAUNTFLO.